Dr. Hedberg's Recommended Resources
The following are all of Dr. Hedberg's top recommendations for optimal health.  Dr. Hedberg has used all of these products himself which are hand-selected so you know they are credible and effective.
The majority of supplements Dr. Hedberg recommends come from Moss Nutrition.  You can order Black Cumin Seed Oil, Cordyceps, Ashwagandha and more from Moss with ordering code H131:
All other supplements such as Inositol, Thiamine, and Aloe can be purchased from Dr. Hedberg's dispensary through Fullscript by clicking on this image: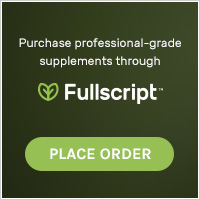 Dr. Hedberg recommends Kettle & Fire Bone Broth
Most of us don't have the time to find free-range, organic bones and then cook them all day.  Kettle & Fire bone broth is extremely high-quality and convenient bone broth you can just heat up on the stove or in the microwave.
Use this code to get 10% off your first order:  DRHEDBERG
Click the image below to order bone broth: